Test Procedure
ASTM : D6770-2
Hex Bar Abrasion
Illustration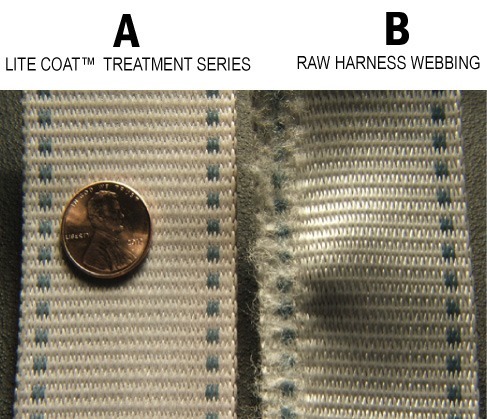 The BioThane® coated webbing, treated with an invisible shield-like coating, is resistant to this type of extreme abrasion testing.
Test Results
BioThane® vs Uncoated Webbing
Test Method
Unit
BioThane® Gold Series
Uncoated Web polyester
ASTM D6770-07 Hex Bar Abrasion
Visual
Fair
Poor
gram wt. loss
0.625
0.136
% tensile retention
100.00
68.40
The information contained herein is believed to be reliable, but no representations, guarntees or warranties of any kind are made to its accuracy, suitability for particular applications, or the results to be obtained there from. The information is based on laboratory work with small scale equipment and does not necessarily indicate end product performance. Because the variations in methods, conditions and equipment used commercially in processing materials, no warranties or guarantees are made as to the suitability of the products for the applications disclosed. Full scale testing and end product performance are the responsibility of the user. SELLER MAKES NO WARRANTIES, EXPRESSED OR IMPLIED, INCLUDING, BUT NOT LIMITED TO, THE IMPLIED WARRANTIES OF MERCHANTABLILTY AND FITNESS FOR PARTICULAR PURPOSE. Nothing contained herein is to be considered as permission, recommendation nor as inducement to practice any patented invention without permission of the patent owner.