BioThane products are made with webbing that is coated with a polymer.  The polymer coating is cleanable, durable, waterproof and stinkproof.  Not to mention winter-proof too!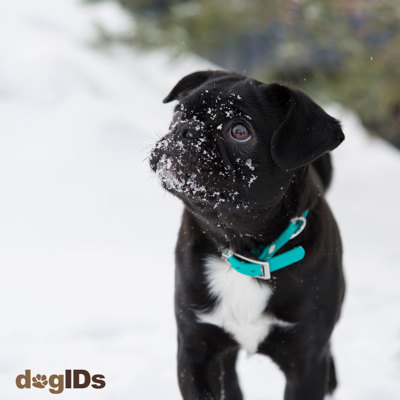 Photo Credit DogIDs.com
Waterproof
Whether you live in California and your dog goes swimming in the ocean in the winter or you live in the snowy mountains of Colorado, BioThane products have a waterproof and durable coating.  They don't retain water and dry well before your dog does! 
Cleanable
As the snow melts, and the mud begins to show, your pup decides it's the perfect time to roll around in the mud.  Luckily, BioThane wipes clean within seconds.  No more putting your dog's disgusting dog collar in the washing machine, just simply take a wet paper towel and wipe your dog collar.  In just seconds, your dog collar looks brand new.     
Stinkproof
We all know that terrible smell that our beloved furry friends get after a few laps around the snowy backyard.  BioThane dog collars won't pick up that smell, so after you bathe your furry friend, you won't have to worry about your dog collar stinking.     
Winter-Proof
BioThane won't crack in freezing temperatures.  The durable coating makes the dog collar the perfect winter accessory and won't freeze to your dog's fur.  If you accidentally leave your BioThane durable dog collar outside during a snowstorm, don't worry, it will survive and withstand the coldest of winters... unless you live in Antarctica!
Durable
Would you buy a winter coat that would only last a few weeks?  No!  Then quit wasting money and purchase a dog collar that is as durable as the coat on your back.  Our friends at DogIDs know a thing or two about durable dog collars.