Hunters have plenty to think about while they're out in the woods. The quality of their dog's collar shouldn't be one of them. The best hunting dog collars help get your dog prepared for the hunt while being tough enough to stand up to the challenge. Here's what owners should consider when choosing a hunting dog collar.
Hunting Dog E-Collars for Training Options
Dogs just don't become hunting masters right away. They must undergo training to learn the ways of the hunt. They are your pupil and you are their master, guiding them in the right direction. The right dog collars can be the tool to help your dog turn from an inexperienced bird chaser to a true four-legged hunting companion.
E-collars allow hunters to train their dogs through stimulation, vibration, and tone. A special remote control allows owners to train their dogs for hunting from a distance without painful shocks, helping your dog to become the hunting partner you need.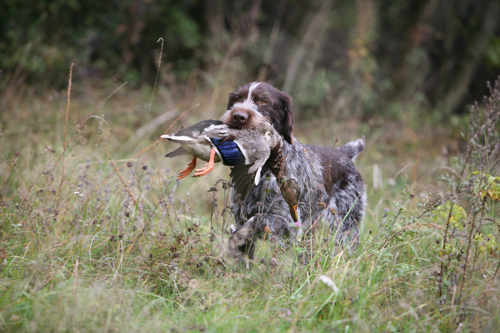 Reflective or Camouflage Collars
Hunting accidents can happen. Specially-colored dog collars can help prevent these accidents. Reflective collars make it easier to spot your dog so that you or another hunter don't accidentally target them. You can also get information added onto these collars in case your dog gets lost or happens to be spooked off during the hunt.
You can also get hunting dog collars in camouflage for close-working dogs. Waterfowl hunting requires your dog to get close to your target, so camo dog collars help them stay hidden until the right moment.
Durability and Waterproof
What good is a collar for hunting dogs if it can't hold up to the elements? When you're out in the woods, your dog is going to get dirty, wet, or both. A waterproof hunting collar allows your dog to venture out in the woods without returning home with some foul smell (or fowl smell, depending on what you're hunting).
It's also key that hunters look for a collar that won't break. Your e-collar isn't going to work so well when a stray branch accidentally rips it off while your dog is running. A durable hunting collar keeps your dog's neckpiece intact so you don't have to worry about chasing down your pooch instead of some other critter.
Hunting Dog Collars
When you need the best collars for hunting dogs, you can turn to coated webbing. This material holds up under extreme conditions and won't absorb water. That way your dog's collar stays intact and smells fine for the next hunt. Check out a list of vendors that make hunting dog collars from coated webbing today and get furry hunting partner ready for the next adventure.