With the holidays coming up, there can be a mad rush to find the perfect presents for your loved ones. While moms, dads, sisters, brothers, and other people of note are important, you better not forget your favorite four-legged friends.
The holidays are a great time to shower your pup with some extra adoration. Now, you may ask "what is my dog going to give me this year?" How about pure, unfaltering love and a lack of judgment no matter what you do, even if you hit the egg nog a little too hard during your family get together? Yeah, your dog deserves a good gift or two. Here are a few ideas you can use.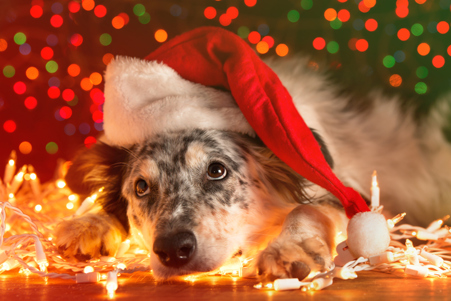 Chew Toys!
Who doesn't like to have fun? A new toy or two can give your dog a new way to entertain himself or herself. The right gift might even benefit you if you choose right.
A good chew toy can satiate your dog's urge to chomp on something. This can be even more beneficial if you're having issues with your dog chewing on items like furniture or shoes. Dogs are going to chew, so give them a safe outlet for it. Other toys can help your dog burn off energy and get exercise, such as a good ball or fetch toy. Plus, there's always the ol' plush toy if your dog just wants something to snuggle with.
Dog Treats!
Tasty snacks are a wonderful thing. Your dog will likely agree. Of course, not all treats are right for your dog. If your pooch is a little older, look for treats designed for senior dogs. Puppies might need special treats while they grow into bigger fluff balls. Also, makes sure to avoid any treats that may splinter and harm your friend.
Dog Beds!
A little comfort can go a long way. A dog bed can give your pup a special place to lay down, especially if they're not allowed up on the furniture. Plus, it means that they'll have a more comfortable napping spot than the floor. Make sure that you pick out a dog bed that fits your dog, however. Some beds may even have weight suggestions. It's also a good idea to get a bed that's easy to wash, just on the off chance that you need to get rid of bugs, dirt, or whatever else your dog may carry around.
Dog Clothing and Collars!
Speaking of comfort, the holidays are a good excuse to dress your dog up right. Dog jackets or sweaters can keep your pup warm and dry, especially during the winter months. It's also a good idea to consider dog collar upgrades. That could mean investing in a waterproof dog collar or picking out a personalized dog collar.
Fortunately, you can get both with BioThane. Check out some of the vendors who make their quality dog collars with BioThane coated webbing and treat your dog this holiday!